Dr. Deb Moncauskas
Children & Family Ministry | Speaker | Coach
Bringing years of practical hands-on experience in Children & Family Ministry.
As a life-long learner and educator, Dr Deb has a current and relevant approach to ministry in the 21st century. Clients receive uniquely tailored coaching and ministry plans.
Learn More
Contact Dr Deb
Ministry Consultant
Dr Deb will provide an in-depth analysis of your children's ministry programs. This assessment includes noting and listening to the ministry's successes, needs and concerns and then addressing challenges and developing a plan for growth.
Ministry Coach / Mentor
Coaching is a 3-6 month commitment that provides one on one direct mentoring and accountability in the area of children and family ministry in order to take a ministry leader to the next level. Coaching will be uniquely tailored to each individual's needs.
Speaker & Educator
While most often speaking on Children and Family ministry-related topics, Dr Deb also speaks on leadership, ministry administration, teacher education, staff development, teams and team building, and living and leading from your strengths.
A Word
From Dr. Deb
" I have served for 33 years in Children and Family Ministry. I have been a Seminary Professor for 16 years at Bethel Seminary, and I am a Doctoral Thesis Advisor at Bethel Seminary. I speak annually at national conferences and lead a Certificate Program in Children's Ministry (Engage). "

Dr. Deb's Thoughts & News
Dr Deb Moncauskas shares her thoughts and ideas from her 33 years in Children and Family Ministry. Also, stay tuned for upcoming events, news and announcements!
Since March, the effects of the Covid19 pandemic have had a huge impact on ministry life. Five months later most churches are not fully open and are offering some level of virtual ministry. Most of those that have opened are doing so without Children's Ministry or...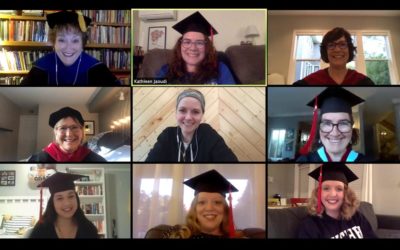 Screen Shot of the Virtual Graduation with our Master students!
I believe that what makes the biggest developmental difference in someone's life is having at least one person who not only loves and cares about him/her but who also recognizes, celebrates and encourages their uniqueness.  Someone who encourages them to excel....
Yrs Strengths Finder Coach